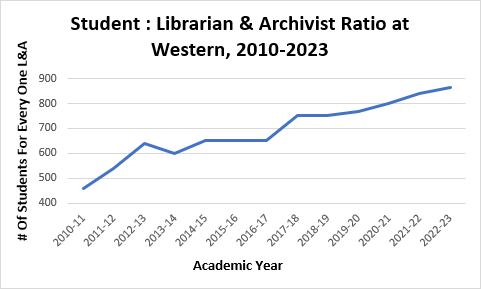 Get loud on social media by making your own posts or sharing ours:
Make sure to tag us! 

You can also find videos of Librarians & Archivists discussing bargaining goals on our YouTube channel: @uwofacultyassociation6710
Utilise resources like social media profile pics and Zoom backgrounds provided in the shared Sync folder (also available here on the website). 
Get in touch with UWOFA's Communications Officer (uwofaco@uwo.ca) to make a short video recording expressing a message of support, which would then be posted to social media.
If you want to get more involved in building support for our UWOFA bargaining goals, please contact our Mobilization Chair, David Heap: djheap@uwo.ca  
Tweets to share:
Librarians and Archivists at @westernU fight to:

✔ ensure access to cutting edge information technologies

✔ protect the integrity of our libraries

✔ ensure access to quality resources

✔ maintain their top-ranked contribution to new scholarship

Librarians and Archivists @westernU are still fighting for two important bargaining goals – complement (increasing the number of L&As) and a fair monetary package. Workloads and student to Librarian and Archivist ratios are at an all time high. We need more L&As at Western!
Does your work as a faculty member or student include access to in-depth, subject-specific research and learning?If you answered YES, SUPPORT your Librarians and Archivists @westernU who make it all possible.
Between 2021 and 2022 the number of consultations related to open publishing increased by 80% while the number of librarians and archivists remained the same. We need more L&As at @westernU
Western wants to increase student enrolment to 50,000 by 2030, but they won't commit to the proportionate complement of librarians and archivists required to adequately support teaching, learning and research. We need more L&As at @westernU!
Librarians and Archivist are paid less @westernu than at other comparable universities in the province.
Western has made clear that it wants to be a world-class university. World-class research and teaching are founded on well-supported Librarians and Archivists.