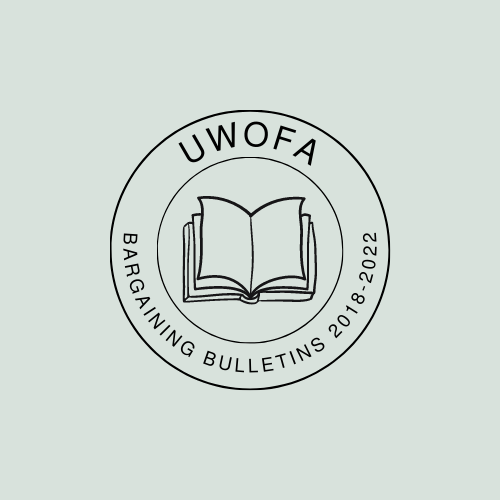 Below are Bulletins from the past round of faculty negotiations and current.
We can now report that the Faculty collective agreement 2022-26 is fully ratified.
Want to get involved?
Here's what you can do:
April 7
UWOFA gives official Notice to Bargain, inviting the Employer to meet within two weeks to discuss planning and scheduling of negotiations
April 22
A meeting of the parties takes place, to discuss planning of bargaining, side tables, and scheduling
May 9
UWOFA emails the Office of Faculty Relations asking that process of scheduling bargaining and side tables (Bill 124, Indigenous Faculty Members, Annual Performance Evaluation, Merger of Bargaining Units) be initiated before the end of that week
May 12
Employer responds, indicating they are happy to begin scheduling and confirms agreement on proposed side tables 
May 18
The Employer confirms scheduling of housekeeping meetings for May 20 and June 3
May 25
In the absence of Employer initiative on scheduling of other side tables and bargaining meetings, UWOFA sends the Employer a list of 29 proposed half days for bargaining during the period from June 13 to July 15, as well as side tables, starting with Bill 124, for the period from June 2 to June 10
May 20 & June 3
Parties meet to work on collective agreement "housekeeping"
June 3
UWOFA asks the Employer (during housekeeping meeting) what date they anticipate being ready to start bargaining. There is no direct reply, beyond that staff are working on scheduling and that they are not yet ready to have the Bill 124 side table discussion
June 8
Still no reply from Employer to UWOFA proposal for bargaining and side table meeting dates; UWOFA prepares to update membership on (lack of) progress to date, serves the Employer with notice of this plan
June 10
Despite UWOFA's efforts and the Employer's expressions of intention to schedule bargaining meetings, no meetings have yet been scheduled at the time this Bargaining Bulletin goes to press
June 15
The Employer is only now responding to the UWOFA negotiating team's proposed meeting dates. The Employer proposes 3 half days over the next month, and all on the last two days before the summer break. At this rate it appears we may still be in negotiations in 2023.
June 29
Initial meeting scheduled for the Indigenous faculty side table. This side table will continue its work in parallel with collective bargaining, focusing on, among other questions, improvements to the terms of the Letter of Understanding (LOU)* Indigenous Faculty Members signed in 2020 following a process formalized in the 2018 collective agreement.
July 14, 15
Collective bargaining meetings scheduled between UWOFA and the administration. UWOFA Board of Directors have unanimously decided to call for conciliation.
July 21
Pause in Bargaining Bulletins until late August when negotiations resume.
August 26
Your negotiating team at UWOFA is back at the bargaining table with the Employer.
September 30
Strike Vote!
91% of ballots cast were YES votes, in support of the UWOFA Board of Directors authorizing strike action if necessary.
October 24
UWOFA requests "No Board Report"
October 28
'No Board' filed with the Ministry of Labour.
November 10
Strike deadline set for November 14 at 11:59pm.
December 2
Faculty collective agreement 2022-26 is fully ratified.