UWOFA has been working hard to get to the table and begin negotiations for a new faculty collective agreement. The current agreement expires on June 30th, 2022, which is coming up very soon.
Updates from the Collective Bargaining Committee and Negotiating Team
Here is an overview of what we have been up to over the last two months.
April 7: UWOFA gives official Notice to Bargain, inviting the Employer to meet within two weeks to discuss planning and scheduling of negotiations
April 22: a meeting of the parties takes place, to discuss planning of bargaining, side tables*, and scheduling
May 9: UWOFA emails the Office of Faculty Relations asking that process of scheduling bargaining and side tables (Bill 124**, Indigenous Faculty Members, Annual Performance Evaluation, Merger of Bargaining Units) be initiated before the end of that week
May 12: the Employer responds, indicating they are happy to begin scheduling and confirms agreement on proposed side tables
May 18: the Employer confirms scheduling of housekeeping meetings for May 20 and June 3
May 25: In the absence of Employer initiative on scheduling of other side tables and bargaining meetings, UWOFA sends the Employer a list of 29 proposed half days for bargaining during the period from June 13 to July 15, as well as side tables, starting with Bill 124, for the period from June 2 to June 10
May 20 and June 3: Parties meet to work on collective agreement "housekeeping"
June 3: UWOFA asks the Employer (during housekeeping meeting) what date they anticipate being ready to start bargaining. There is no direct reply, beyond that staff are working on scheduling and that they are not yet ready to have the Bill 124 side table discussion
June 8: Still no reply from Employer to UWOFA proposal for bargaining and side table meeting dates; UWOFA prepares to update membership on (lack of) progress to date, serves the Employer with notice of this plan
June 10: Despite UWOFA's efforts and the Employer's expressions of intention to schedule bargaining meetings, no meetings have yet been scheduled at the time this Bargaining Bulletin goes to press
*Side tables are off the record discussions on topics of mutual interest
**Bill 124 is the provincial government legislation (introduced in 2019) which limits public sector salary increases to 1%. As we all know, this amounts to an imposed ongoing salary reduction in light of rising inflation.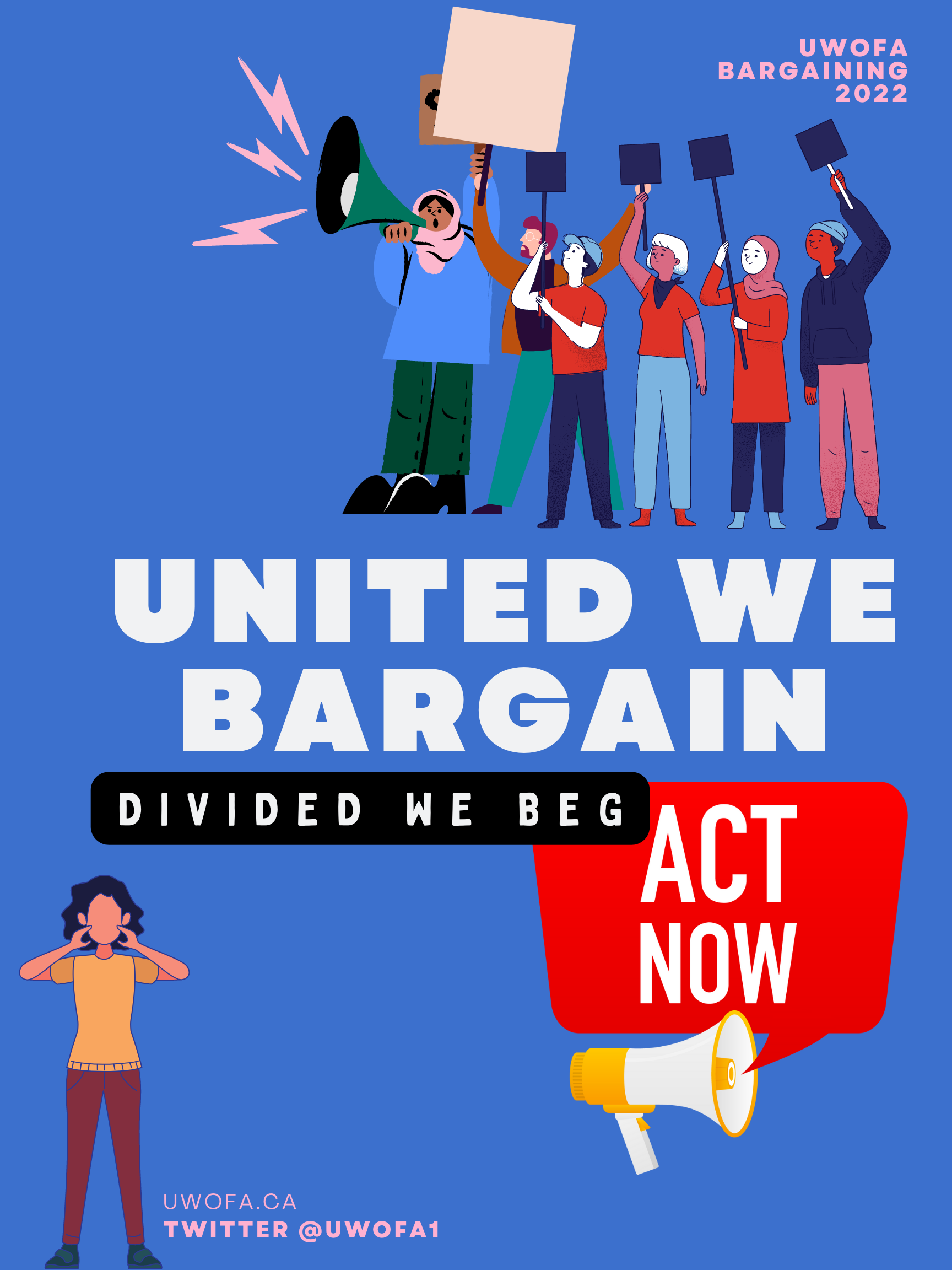 We call on members to come together now and show the Employer that your patience is not infinite.
Here is what you can do to help encourage the Employer to come to the table:
Take to Twitter and tweet about why collective bargaining matters to you. Feel free to use one of the statements below or craft your own. Don't forget to tag @uwofa1, @westernu, @westernuProvost – this will ensure that the Employer sees your message, while also allowing us to amplify your voice.
Collective Bargaining matters for Quality Education @WesternU in #LdnOnt @uwofa1
Collective Bargaining matters for Health and Wellbeing @WesternU in #LdnOnt @uwofa1
Collective Bargaining matters for Fair and Equitable Workloads @WesternU in #LdnOnt @uwofa1
Collective Bargaining matters for Protecting Collegial Governance and Due Process @WesternU in #LdnOnt @uwofa1
Collective Bargaining matters for Job Security for Contract Faculty @WesternU in #LdnOnt @uwofa1
Collective Bargaining matters for Equity, Diversity, Inclusion and Decolonization @WesternU in #LdnOnt @uwofa1